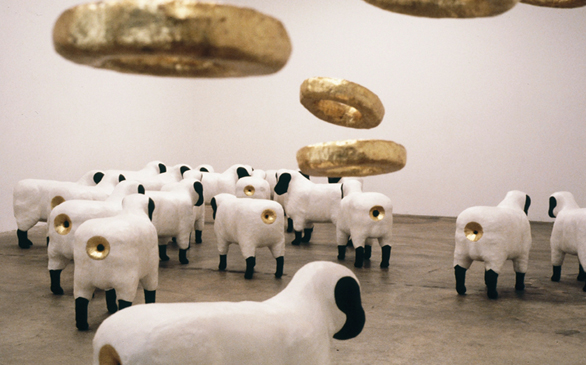 "How would you describe this exhibition?" I ask artist Michael Arata.
"It's my life!" he replies.
Sure enough, as Arata describes, his exhibition at the Beacon Arts Building truly shows his life as an artist … and perhaps even more. Until May 22, Arata will be holding his largest solo exhibition for the public to enjoy.
Arata, born in 1955, is a playful, creative contemporary artist who challenges ordinary perceptions of various aspects of our lives through his imaginative work. A versatile artist who works with just about anything from newspaper, acrylic paint and soccer balls to tampon applicators (yes, weird), to name only a few, Arata deserves praise for his unconventional work that often confuses the viewer with its web of meanings.
In the 32,400 feet square art space that used to be used for storage is a massive collection of Arata's works, some that have been previously seen and excitingly, those that have never been displayed in public. Expanding over the space of three floors in the four-story building, the exhibition has many installations that guests can ponder over as well as play with. Composed of small to large-scale installations, the show ignites a youthful energy in the viewer with its bright pop colors and whimsical forms.
Each floor of the exhibition has a specific theme. Within each theme space are several rooms (no rooms on the fourth floor, just a large space with different sections) incorporating installations with different concepts; concepts that are a bit hard to understand. Thankfully, Doug Harvey, the curator of the show and an acclaimed writer who has covered art extensively for LA Weekly, deciphers the complicated nature of Arata's works in short paragraphs in each room. A definite must-read if you want to catch the artist's motive behind all of that color.
Most of his pieces have audience participation elements. Pieces such as Venus as a Fertility Figure, Activityon the second floor will stand out. The work shows a pair of pantyhose attached to a hoop weighed down by heels and below it is a pile of "eggs" made out of potatoes. The key is to throw the "eggs" into the pantyhose hoop; this, of course, enhances the vulgarity of the depiction of the female figure as sort of a baby-producing machine, perhaps even a game (Do I have that right? I don't know.).
On the top floor, you will see a broad range of pieces that also will call for your participation, such as the rollable disk art and beard disguises created from papier-mache. As exciting as all this sounds, Arata's work is not all cute and humorous. Behind all of the color and forms is a certain creepiness and absurdity that calls for more than simple enjoyment. One constant recurring image in his works is the human body, which will be pretty obvious to even the most ignorant person. Even if you cannot see the message behind the works immediately, take some time to mull over them, because what seems like a flock of sheep (one of his installations) may surprise you with its intentions.
This exhibit demonstrates the artist's appealing and psychotropic nature of his productive career. Arataland! is a continuation of the Critics-as-Curators series of Beacon Arts, a series where art critics and writers are encouraged to step out and curate their own large scale shows.
Beacon Arts Building is located at 808 N. La Brea Ave., Inglewood. For more information, visit beaconartsbuilding.com.